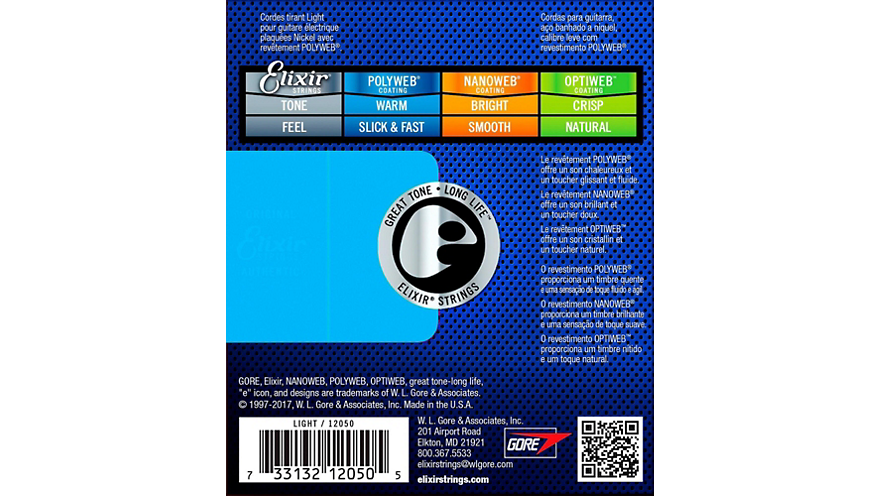 Elixir Electric Guitar Strings with POLYWEB Coating, Light (.010-.046)
SKU: 12050
---
Prolong your tone with the same premium electric guitar strings that experienced players worldwide trust to keep their incredible tone longer than any other string available. Unlike other string brands, Elixir Strings coats the whole string. This protects not only the outer string surface but also the gaps between the windings where common tone-deadening gunk typically builds up in other brands' coated and uncoated guitar strings.

Who wouldn't love more quality playing time between the hassle and cost of string changes?

Crafted to last, these nickel-plated steel electric guitar strings boast a warm, robust tone while the POLYWEB Coating brings a slick, fast feel to the playing experience.

For a more traditionally textured, "uncoated" feel and a brighter, punchier tone, try Elixir's electric guitar strings with ultra-thin NANOWEB Coating. 

Of course, the kind of string you play is all a matter of personal preference. Not sure what tone or feel is right for you? Try them out for yourself, and find your new favorite string from Elixir Strings.
FEATURES
Gauges 10-13-17-26-36-46
Electric guitar strings constructed with nickel-plated steel wrap wire
Played for a warm, robust tone
Original POLYWEB Coating provides a soft, slick feel that keeps the strings from getting in the way of playing
Patented coating technology protects against common corrosion, extending tone life longer than any other brand's coated or uncoated strings (Elixir Strings player survey)
Anti-Rust Plating on plain steel strings ensures longer tone life for the entire set