Roll over image to zoom in
Description
KORG KROME 73 KEY MUSIC WORKSTATION
A Powerful Workstation with Sounds from the Kronos
When you power up your Korg Krome keyboard workstation, you'll have an incredible assortment of lifelike pianos, drums, EPs, and other instruments under your fingers, plus a streamlined interface with a powerful 16-track sequencer — everything you need to make memorable music fast. Krome keyboards use sounds derived from Korg's respected Kronos workstation, plus an amazing range of arp patterns and drum grooves. In short, Krome workstations come packed with inspiration. And whether you're using it with your DAW in plug-in mode, or navigating it with the intuitive full-color touchscreen, you'll love creating music with your Korg Krome.
A wide range of top-notch instruments and sounds
While the interface of the Krome is streamlined and intuitive, it boasts a wide range of amazing-sounding instruments and drums from its big brother, the Kronos workstation. You get 640 instruments and sound, and 288 combination presets that are sure to inspire. Start off with the impressive "German D Grand," a staple of the Kronos that uses a combination of dedicated PCM memory and full-length, unlooped samples for each key. Next there are killer electric pianos and keyboard models, each equipped with vintage effects and amplifier emulation. And no song is complete without proper drums, which is why your Krome keyboard comes loaded with all the kits and sounds you need fuel your creativity.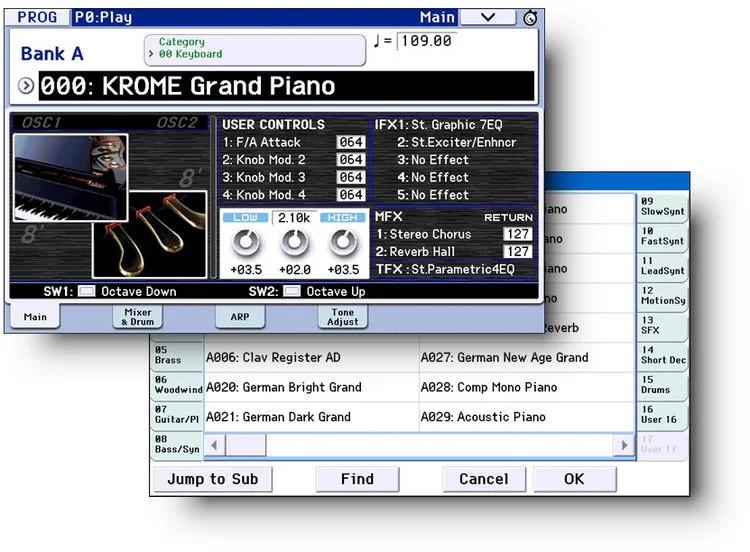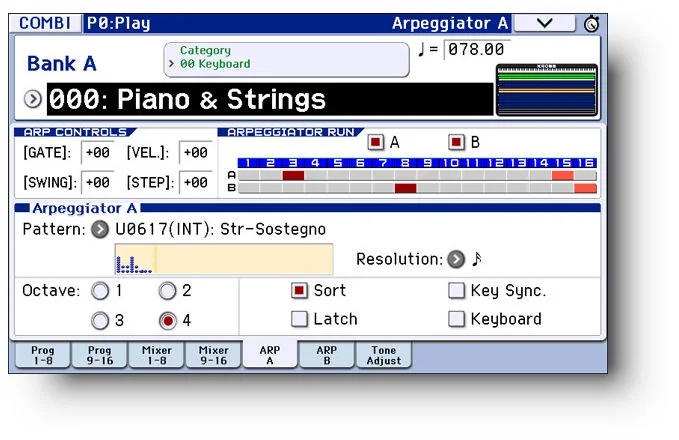 Amp up the energy with dual polyphonic arpeggiators
Whether you're rocking Combination mode or laying down tracks in the sequencer, your Krome keyboard workstation's dual polyphonic arpeggiators lavish you with dynamic, rhythmical performance options. Even standard arpeggio types deliver complex results when you run two simultaneously, but the Krome's arpeggiation modes kick it up a notch. 
Onboard sequencing and full DAW integration
The Krome's powerful 16-track sequencer, plus five insert effects, two master effects, and per-track EQ, means you can create amazing music with nothing but this workstation. But thanks to the free, downloadable plug-in editor software, you can use the Krome as a plug-in in your computer-based DAW too. So whether you prefer to work on a keyboard workstation, produce on a computer with Krome sounds, or a combination of both workflows, you'll appreciate the flexibility and intuitiveness of the Krome.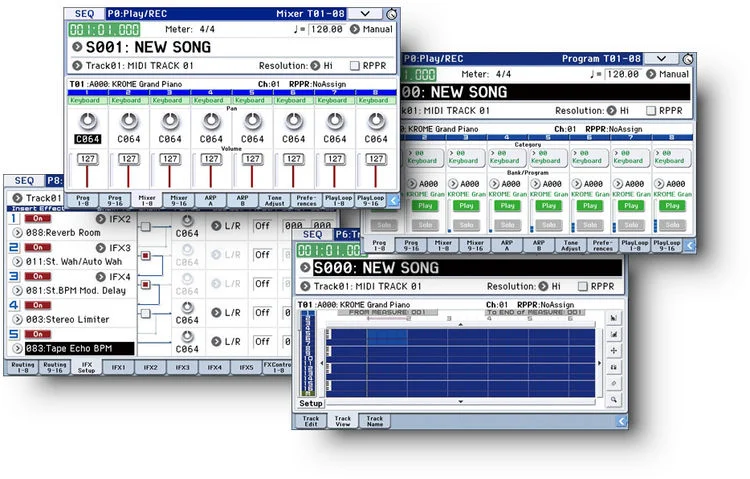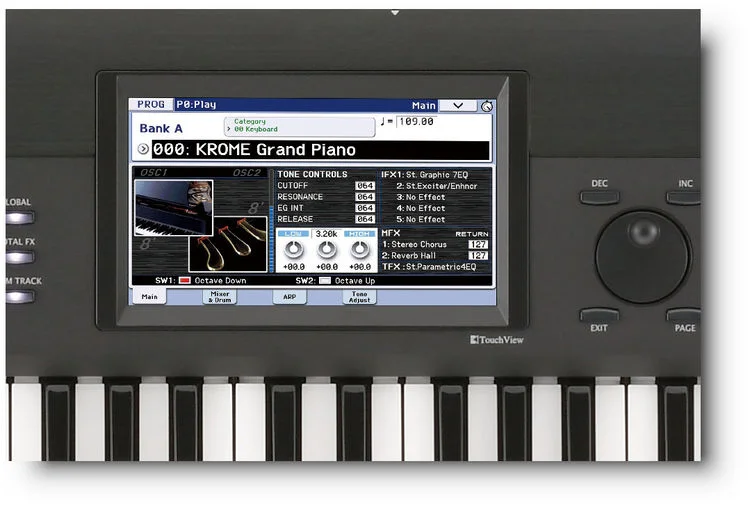 TouchView interface makes navigation easy
The Krome may be a lean and lightweight keyboard, but its workstation capabilities are more than enough to hang with the heavyweights. That has a lot to do with its 800px x 480px TouchView Color display. Measuring a full 7", this touchscreen lets you tweak sounds, edit sequences, program custom arpeggio patterns and more — all without complex controls or unnecessary menu diving. It's also super responsive, making it easy to drag value sliders and make fine adjustments in a hurry.
Tear it up with Natural Touch Semi-weighted Action
As your hands explore the Krome's Natural Touch semi-weighted keybed, you'll appreciate the expressive response and fast action. It's exactly what you need for fast-moving synth parts, brass and string stabs, and uptempo organ performances. At the same time, you get enough resistance to make playing piano parts comfortable. All told, this keybed is a great balance between a piano-like weighted keybed and an ultra-fast synth action keyboard, giving you maximum performance potential no matter what sound you're playing.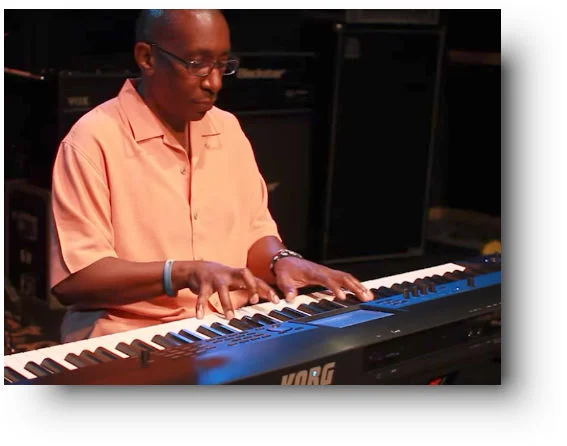 Korg Krome 73 Keyboard Workstation Features:
Magnificently flexible keyboard workstation loaded with sounds and performance functions adopted from the Kronos series
73-note semi-weighted action keyboard provides the quick response and recovery you need for fast-paced synth and organ performances, with enough resistance for piano parts as well
Loaded with over 640 sounds (including the German D Grand piano and Jazz Ambient Drums from Kronos) and and 288 combinations
Dual polyphonic arpeggiators let you energize your music with 900 arp patterns and 600 drum grooves, or create your own for even more artistic freedom
Full-color 7", 600px x 480px TouchView display makes it easy to tweak parameters, sequence, and access all kinds of additional functions
Downloadable editors let you dive deeply into your Krome's operating system or use your keyboard like a plug-in with your software DAW
Payment & Security
Your payment information is processed securely. We do not store credit card details nor have access to your credit card information.