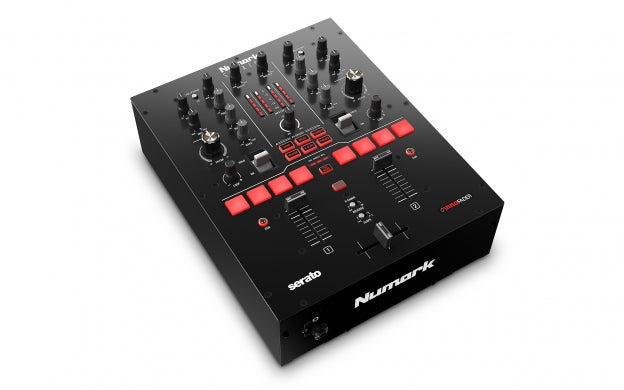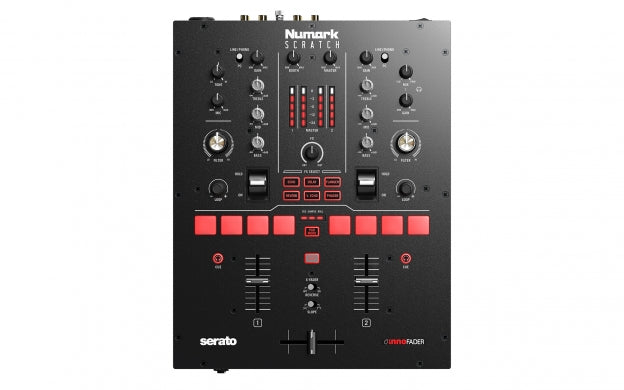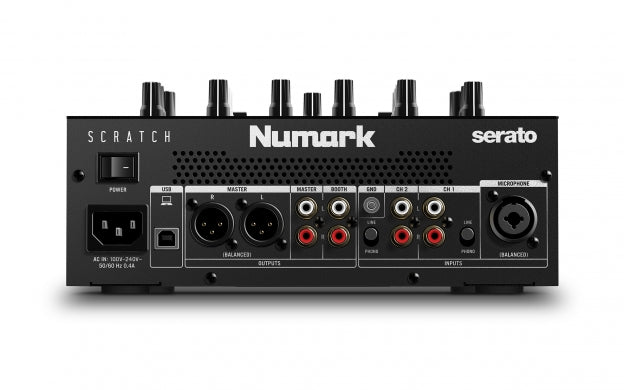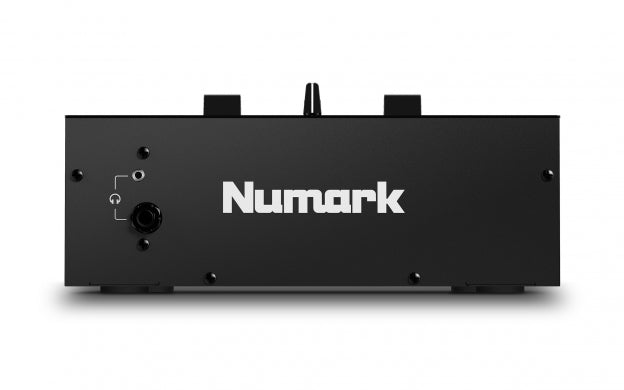 SKU: SCRATCHXUS
Numark Scratch 2-Channel Scratch Mixer
---
A Cut Above The Rest
Numark Scratch is a 24-bit two-channel mixer that redefines what you can do with an affordable 2-channel scratch mixer. With Scratch, you'll be able to create and perform at a higher level than you ever thought was possible—especially with a mixer in the affordable price category. Scratch combines professional-level performance and outright DJing fun in a way nothing else ever has. You've got to experience it to really see what it's all about!
Scratch is really something special—It brings a new look and design to the mixer category. It boasts an all-metal build with professional features such as a built-in Innofader crossfader, performance pads, instant loop encoder, and toggle paddles to trigger software-based effects. To top it off, it comes with Serato DJ Pro and Scratch is Serato DVS ready.
Performance Pads
Its soft responsive performance pads give you the freedom to access cues, rolls, and sampler quickly. The pad mode makes it very convenient to set hot cue points, roll temporary loops, and trigger samples at ease.
Software FX
Six dedicated software-based FX to apply to individual channel or both using the premium performance base toggle paddles. You can adjust your FX mix from Dry to Wet as you feel the mix.
24-Bit Digital Sound Quality
Play your best with the best! With amazing sound quality thanks to its 24-bit circuitry, the sound is pristine. Your digital song collection never sounded so good, whether you're using Serato DJ Pro or other preferred software. This is also a great mixer to play vinyl records, with a full EQ and a dedicated low/high pass filter.
Innofader Crossfader
Our butter-smooth Innofader crossfader is designed with the turntablist in mind to perform most intricate and accurate scratches. You have two switches above the crossfader; 1.) reverse the channels and the other 2.) change the slope for a hard cut or a soft curve for mixing.
FEATURES
Serato DJ Pro with DVS License Included Ready to Connect Timecoded Records or Deck Controllers*
Innofader Scratch Crossfader with Reverse and Slope Control
6 Quick Launch Effect Triggers with Dual Paddles and Dry/Wet FX Control
4 Performance Pads Per Deck to Access Cues, Rolls and Samples
Filter Knobs to Create Audio Sweeps
Dedicated Instant Looping Knobs
Combo Mic Input (XLR/¼-inch) with Tone Control
Dual Headphone Output Cueing System (¼-inch/1/8-inch)
24-bit Digital Sound Quality
MINIMUM SYSTEM REQUIREMENTS
Mac OS X 10.11
Mac OS Sierra 10.12
Mac OS High Sierra 10.13
Windows 7
Windows 8.1
Windows 10
Processor Minimum Requirement: i3, i5 or i7 1.07Ghz
Ram Minimum Requirement: 4 GB