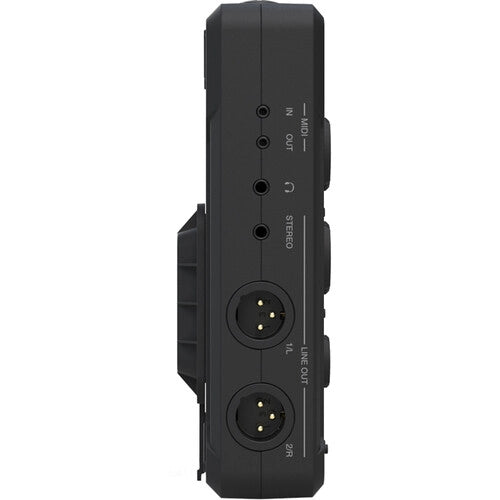 Ik Multimedia Irig Pro Quattro Deluxe Interface
SKU: IP-IRIG-QTRDLX-IN
---
Features
Podcast, Field Audio, Streaming, Video
iOS/Android Mobiles, Computers, Cameras
4-In / 2-Out Portable Audio Interface
4 XLR Mic/Line Pres, RCA/3.5mm Line In
iRig MIC X-Y Stereo Microphones
Balanced XLR Outputs, Headphones Jack
Built-In Limiter, -12 dB Safety Channels
Full MIDI I/O, Loopback Function
Runs Off USB, Batteries, or Power Supply
Carrying Case, Power Supply
Content creators can effortlessly capture high-quality audio directly to their iOS/Android mobile device, Mac/Windows computer, or DSLR/mirrorless camera with the IK Multimedia iRig Pro Quattro I/O, a 4-input / 2-output audio/MIDI interface designed specifically for live streaming, podcasting, and audio-for-video applications, at home or in the field. The Deluxe bundle includes two X-Y unidirectional mic capsules that plug into the front of the unit for quickly capturing stereo audio when working on the go.
Small enough to fit in the palm of your hand, the iRig Pro Quattro I/O offers a flexible array of input/output options including four low-noise balanced XLR mic preamps with 48V phantom power, Hi-Z inputs for instruments, and stereo RCA and 3.5mm line inputs to connect an audio player, plus there is a built-in omnidirectional mono microphone. You'll also find two balanced XLR line outs, a 3.5mm stereo line out, a 3.5mm headphone out with direct-monitoring option, and full MIDI I/O. The unit delivers clear, 24-bit / 96 kHz audio and is capable of mono, stereo, and multichannel operation to adapt to your workflow. A built-in limiter protects against your audio clipping. The interface runs off either 4 AA batteries, USB power, or with the included external PSU.
Audio Quality Without Compromise, Wherever You Go
Up to 24-bit / 96 kHz digital audio
4 ultralow-noise mic preamps with full +48v phantom power
Asynchronous USB for ultralow conversion jitter
Built-in limiter on input 1 and 2
Multitrack, stereo, or mono internal mixdown to fit any field situation
Comprehensive Input and Output Options
Two balanced combo mic preamps / unbalanced Hi-Z instrument inputs (with 48V phantom power)
Two balanced combo mic preamps / balanced line-level inputs (with 48V phantom power)
Stereo RCA and stereo 3.5mm line inputs
Two balanced XLR line outputs
3.5mm stereo line output
3.5mm headphone jack
Built-in omnidirectional microphone
Two 2.5mm MIDI input and output
Streaming/Podcast Interface with Loopback Mode
Enable The Stereo mode and iRig Pro Quattro I/O mixes all sources down to stereo for streaming or recording to an iOS/Andoid mobile device or Mac/Windows computer. Monitoring is easy thanks to a dedicated headphone output with independent volume control and direct monitoring. Or, use Mono mode for streaming to social media.
The Loopback function lets you send the signal playing on your device back into the recording or streaming app being used. This allows you to send your video playback, mouse clicks, web browser output, etc., straight into your live stream, podcast, or video recording.
Audio Interface for Field Recording with Your Mobile Device
With an onboard omnidirectional microphone and included X-Y stereo, unidirectional mic capsules, iRig Pro Quattro I/O turns your mobile device into a full-featured, professional field recorder.
Standalone Mixer with DSLR/Mirrorless Cameras
The iRig Pro Quattro I/O can be used as a standalone preamp and mixer: just power it via USB, batteries, or the included PSU adapter, and use the full set of inputs/outputs to capture professional audio on your DSLR camera.
Clean Audio with Safety Backup Channels
When the unit is set to Stereo or Mono mode, channels 3 and 4 are used as safety channels: this means that it is possible to send the same signal present on channels 1 and 2 to channel 3 and 4, but reduced by 12 dB as a distortion-free backup in case the sound source gets loud unexpectedly.
Compatible with iOS / Android mobile devices, macOS / Windows computers, DSLR/mirrorless cameras
Runs off USB power, 4 AA batteries, or included PSU adapter (also charges your iOS device)
Battery life: 1.5 hours of recording (3 hours with NiMH rechargeable batteries), 2.5 hours of playback (4 hours with NiMH rechargeable batteries)
Built-in shoemount adapter for mounting on a camera
1/4"-20 bottom thread for mounting on a camera tripod