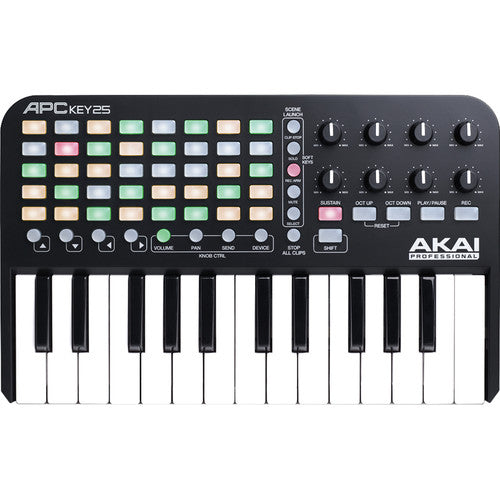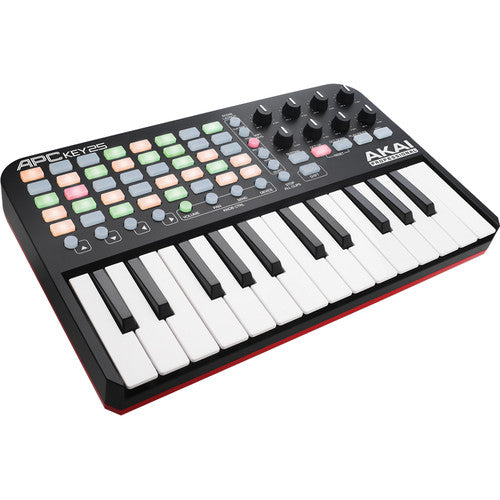 Akai Professional APC Key 25 - Ableton Live Controller
SKU: APCKEY25
---
The APC Key 25 from Akai Professional is hardware controller designed to work with Ableton software in a one-to-one integration, and features a high-performance keyboard in addition to the clip launching matrix. The controller comes pre-mapped to Live for an instant performance and production setup.
Uniting the power of a clip-launching panel with a keyboard interface, the controller couples real-time control of Ableton Live with traditional composition tools - create melodies, compose bass lines, and play chords with the keyboard. Dedicated buttons for octave up, octave down, and sustain expand the capabilities of the keyboard.
The 5 x 8 RGB clip-launching grid is designed to launch clips and create or perform song from the ground up using the forty responsive triggers. Tri-color lighting provides visual feedback and displays three clip statuses - loaded, playing, and recording. The Shift button and directional arrows allow for manipulating the scope of the grid.
Eight control knobs tare laid out next to the clip-launching grid for easy tweaking. Users can change knob functionality with dedicated buttons for volume, pan, sends, and device control. Additionally, each knob is completely assignable for flexible mixing and mapping options.
Powered over USB with plug-and-play connectivity allows for taking the unit from the studio to the stage or wherever. A software music production suite includes Ableton Live, along with two virtual synthesizers, Hybrid 3 by AIR Music Tech and SONiVOX's Wobble. Toolroom Records artist launch packs feature the sounds of electronic music with a premium collection of sample packs.
Provides hands-on control of Ableton Live
Seamlessly integrates one-to-one with Ableton Live
5 x 8 clip-launch matrix with tri-color lighting displays current clip status
Twenty-five synth-action mini keys
Eight assignable control knobs
Shift button and directional arrows manipulate the scope of the grid
Dedicated octave up, octave down, and sustain buttons
USB-powered and plug-and-play connectivity for Mac and PC
Production package includes Ableton Live Lite, Hybrid 3 by AIR Music Tech, SONiVOX Twist and Toolroom Records artist launch packs (downloads)