Red Cedar - Myrtlewood
PURSUIT EXOTIC S CONCERT NYLON CE
Fans of nylon string guitars know that the lower tension and supple feel of filament versus steel allows for an exciting array of explorations and emotions. If you haven't tried nylon, you don't know what you're missing, whether as a primary instrument or as an additional flavor in your personal musical stew. Part of Breedlove's sustainable ECO Collection, the tortoise bound Pursuit Exotic S Concert Nylon offers exquisite tone and easy playability, with the classic "classical" sound of solid western red cedar supported by the full range of myrtlewood. Appointments, in addition to exacting Fishman Presys I electronics, include a slotted Asymmetrical headstock and sleek, easy-playing, satin finish African mahogany neck with soft cutaway access to every expressive fret.
Pursuit Exotic S Concert Nylon CE
SPECIFICATIONS
Neck Wood
African Mahogany
Solid Wood Top
Western Red cedar
Layered Back & Sides
African Mahogany, Myrtlewood
Fretboard
Ovangkol (stain black)
Tuners Hardware
Black Nylon Open Gear
Body Depth
3.58" (Neck) 4.2" (Tailblock)
String Gauge
D'Addario EJ44
Bridge
Ovangkol (stain black)
Inlay
Copper color Logo & Brass FB/Side Dots
Crafted In
Designed in Bend, OR USA. Crafted in China.
Pursuit Exotic S Concert Nylon CE
FEATURES
Sustainable & Clear Cut Free
Made from sustainably-sourced exotic and native tonewoods. No clear-cut trees are used in these instruments. Breedlove uses salvaged and individually harvested timber and has deep relationships with responsible suppliers around the globe. As we move towards sustainability across all lines, owner Tom Bedell has visited 15 countries to discover exactly where the wood comes from, how it is selected and harvested, and how this affects the wildlife, the community, the forest and the planet.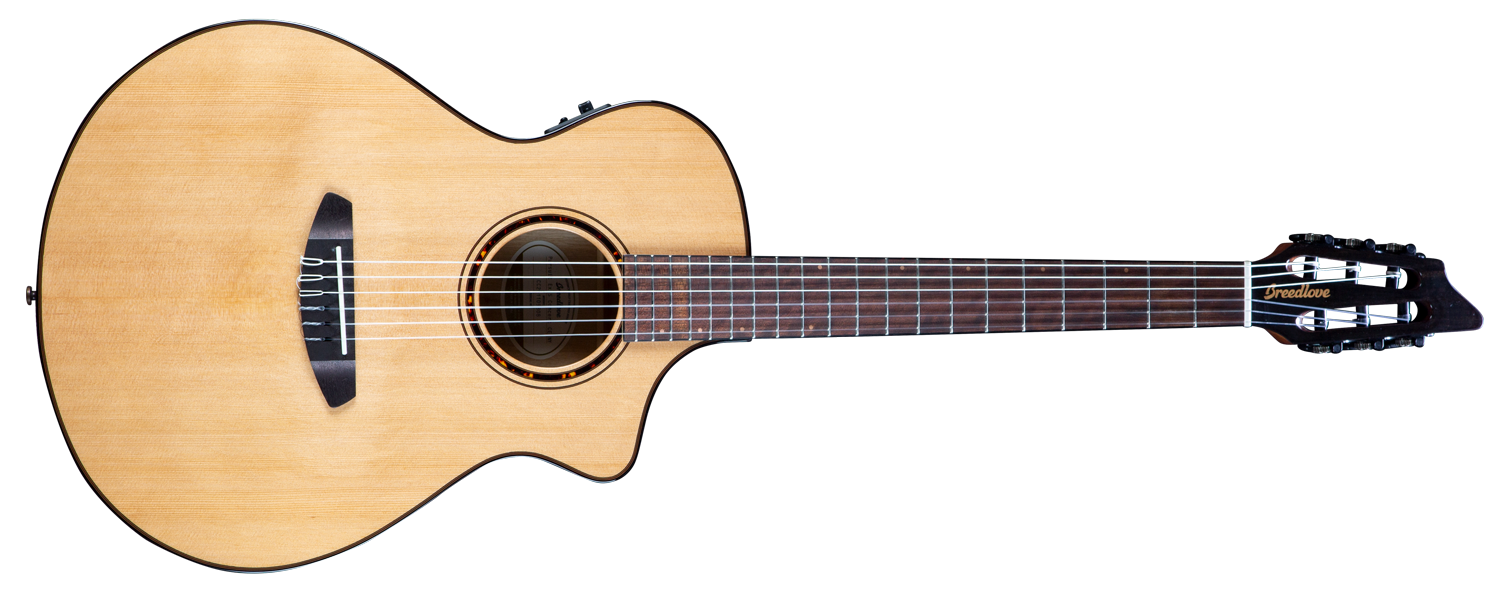 THE CONCERT BODY SHAPE
The Concert is our most popular body shape, favored by players because it is well-balanced, compact, comfortable to play, and offers all the qualities of a great sounding guitar. It generates a wonderfully articulate range of tone with an ample low end that is never boomy, but always felt. The Concert works well when played fingerstyle, as vocal accompaniment, or at a full strum.
BREEDLOVE PINLESS BRIDGE
Breedlove's pinless Delta bridge is a distinctive element, alright, with a sleek, modern contour that adds an extra bit of unexpected beauty to every instrument, from Discovery to Legacy. But it also adds welcome functionality while anchoring great sound. Beginners love the fact that string changes are much easier without having to wrestle a traditional pin bridge. Pros love it for the same reason! No more looking for lost pins during a fast backstage string swap. And its low profile makes for perfect right hand damping.
Pursuit Exotic S Concert Nylon CE
GUITAR PORTRAIT
We are pleased to present these very detailed specifications for your 2021 Breedlove acoustic guitar, which was Designed in Bend. In addition to dimensions, we have listed the tonewoods used in this model: its common name, scientific name, and country where the tree grew. We use no clear-cut wood. We either salvage dead trees or individually harvest to minimize the impact on the forest. You can travel globally with your Breedlove worry free. No permits are needed. That said, it might be helpful to have this information on hand if you are traveling internationally. We suggest printing out this information and carrying it with your guitar to avoid any misunderstanding or timely waits with border customs officials.
Wood and Animal Contents
Top
Western Red cedar/Thuja plicata/United States
Back and Sides
African Mahogany/ Khaya anthotheca/ Republic of Congo, Myrtlewood | Umbellularia californica | United States
Neck
African Mahogany/ Khaya anthotheca/ Republic of Congo
Fretboard
Ovangkol/ Guibourtia ehie/ Gabon
Bridge
Ovangkol/ Guibourtia ehie/ Gabon
Headstock overlay
Ovangkol/ Guibourtia ehie/ Gabon
Body Binding
Tortoise/Plastic
Fretboard Binding
Tortoise/ Plastic
Pursuit Exotic S Concert Nylon CE
VERSATILE PLAY STYLE
The Breedlove Play Style system was created to help you, the player, select your sound and playing style. Finding the most appropriate guitar to fit your sound requires finding not only the correct body shape, but the proper tonewood combinations to fit your style of play. Each Breedlove guitar is designed for a specific play style and sound, the Play Style systems assign a playing style icon to each instrument.
V | Versatile Play, Multiple Styles: Breedlove crafts most guitars with a versatile "all-purpose" sound and feel – well balanced between strumming and fingerstyle play.