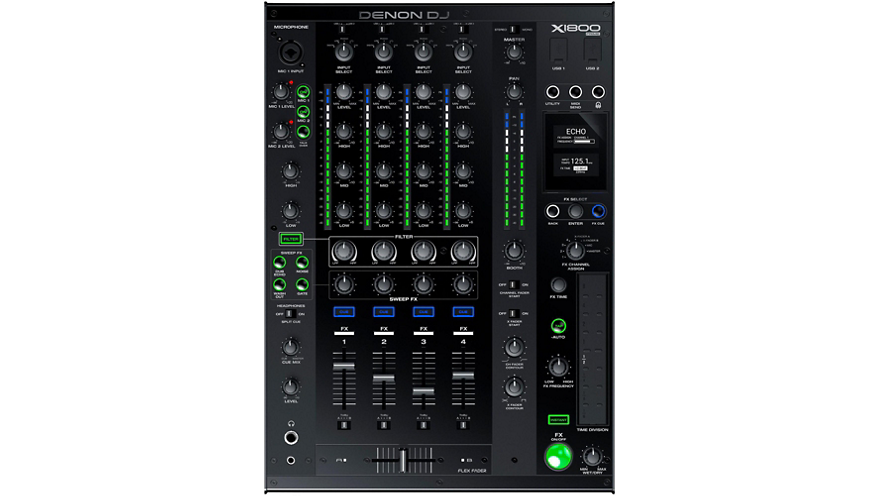 Denon X1800 Prime 4-Channel Club Mixer
SKU: X1800PRIMEXUS
---
The X1800 Prime is Denon DJ's new 4-Channel club mixer, adding exciting new features to an instantly-familiar top-panel layout, guaranteed to enhance any DJs creative performance. Dedicated Sweep and BPM FX combinations deliver dynamic control, and expressive EQ choices give DJs an unmatched ability to personalize their sound. Additional sonic options are present with an adjustable filter resonance control and a unique 'touchstrip' bar that adds beat increment changes to tempo-based FX.

True to the Denon DJ engineering heritage, the X1800 features extremely high-quality, 24-bit, 96 kHz audio output, ensuring superb sound characteristics. The X1800 is perfectly suited to integrate with Denon DJ's SC5000 Prime media via the Engine Connect protocol. This shares the beatgrid and time information with the mixer, from the player, to align the FX LFOs. Denon DJ's expressive Flex-Fader, Crossfader adds diverse physical performance flexibility, whilst the frequency-controlled Band-Isolation brings even more sonic manipulation possibilities to creative DJs.

The X1800 incorporates a comprehensive array of performance and convenience features that set it well apart from ordinary mixers. Its dedicated Sweep and BPM FX controls, deliver dub, echo, noise builds and reverb effects for each channel, giving DJs even more performance options to craft a unique sound. There is also Send and Receive FX routing. Add to this, the ability for DJs to express themselves using more powerful, menu-based EQ tools, with switchable Classic or Isolation modes available plus a powerful Lo/Hi Pass Global Resonance control. Viewed via the crisp, OLED screen, the main BPM FX unit has 12 high-quality effects and also includes a quick-to-set Effects Quantization Touch Strip, empowering DJs to apply elegant rhythm-based adjustments to shape their sound to its maximum potential.

In addition, the X1800 has dual USB audio connections to facilitate 3rd party DJ software and perfect DJ changeovers in the booth. MIDI-based effects and instruments can also be connected to the X1800, locking in tempo-based FX plus other rhythm or synth-based instrumentation. For unsurpassed system expansion potential, there's a 4-port LAN hub to connect up to four SC5000 players. Its dedicated digital inputs and output (for mixing in pure 24-bit/96 kHz when connected to the SC5000) ensure the very highest audio quality—a must for demanding professionals.

Software is included.
FEATURES
4-Channel Digital Mixer with four phono/line switchable channels
BPM FX section with frequency controlled 'Band-Isolation'
Dual USB audio connections for software and audio devices.
Dedicated Sweep and BPM FX Knobs — high-quality effects for each channel with a single knob turn
Expressive EQ – choose Classic or Isolation modes and an Adjustable Filter Resonance Control
Engine Connect' protocol for beatgrid locked FX
Expressive Denon DJ 'Flex-Fader', Crossfader
Connect MIDI-based effects and instruments
24-bit/96kHz digital output for uncompromised audio quality
Crisp OLED screen for precise menu based adjustments
Four digital inputs for high-resolution audio mixing
LAN Hub for up to four players or accessories
Rugged metal construction