Fender Player Plus Active Meteora Electric Bass Guitar - Opal Spark
SKU: 0147393395
---
Fusing innovative Fender design with player-centric features and exciting new finishes, the Player Plus Meteora Bass delivers superb playability and unmistakable style.
Powered by a pair of Fireball™ Bass Humbucking pickups, the Player Plus Meteora Bass delivers the punch and growl that defines Fender bass tone. A 3-band active EQ provides precise tone shaping with switchable active/passive operation for ultimate flexibility. The Player Plus Meteora Bass neck is sleek, fast, and smooth thanks to its silky satin finish, comfortable rolled edges on a 12" inch radius fingerboard, and modern "C" back-shape. A rock solid HiMass™ bridge provides sustain, resonance, and perfect intonation.
With classic Fender style, advanced features and stunning new finishes, the Player Plus Meteora Bass is the perfect tool to spark your creativity and stand out from the crowd.
FEATURES
Fireball™ Bass Humbucking pickups
Three band active EQ with active/passive toggle
Four saddle HiMass bridge
12" radius fingerboard with rolled edges
Modern "C" neck shape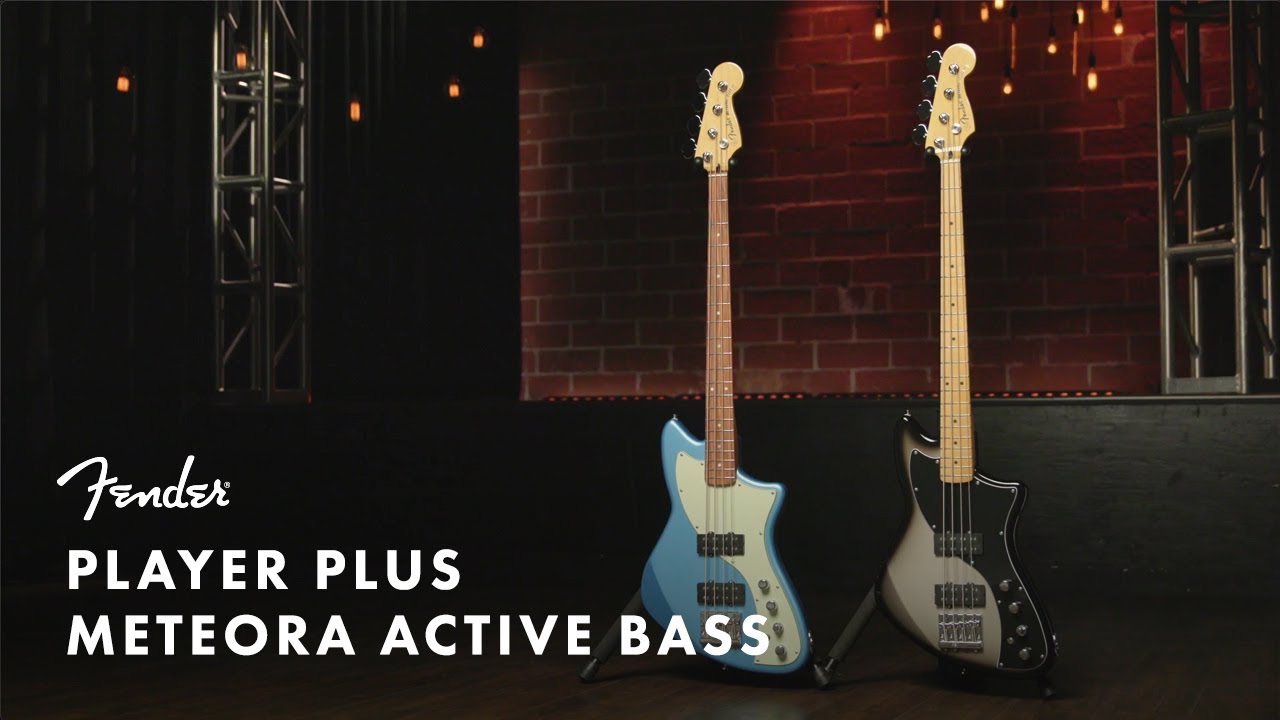 FIREBALL™ BASS HUMBUCKING PICKUPS
With clear highs, balanced mids and full lows, these pickups are fat and responsive with great clarity and string to string note balance.
ACTIVE/PASSIVE ELECTRONICS
The 18-Volt active preamp offers boost/cut for treble, bass, and mid frequencies for precise tonal shaping. A mini toggle allows the player to switch between active or passive modes for ultimate versatility. Finally, a quick access battery box on the rear of the instrument makes battery changes a snap.
HIMASS BRIDGE
The HiMass bridge delivers rock-solid sustain, intonation and tuning stability.
12" RADIUS FINGERBOARD WITH ROLLED EDGES
The 12" radius and rolled fingerboard edges provide supreme comfort.
MODERN "C" NECK
Fast and comfortable, the Modern "C" profile suits all playing styles, and the satin finish provides a luxurious feel that is smooth up and down the neck.