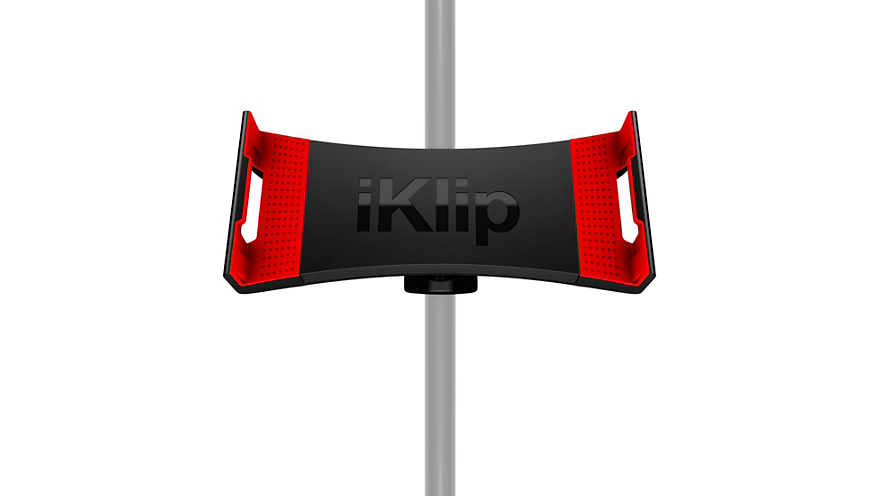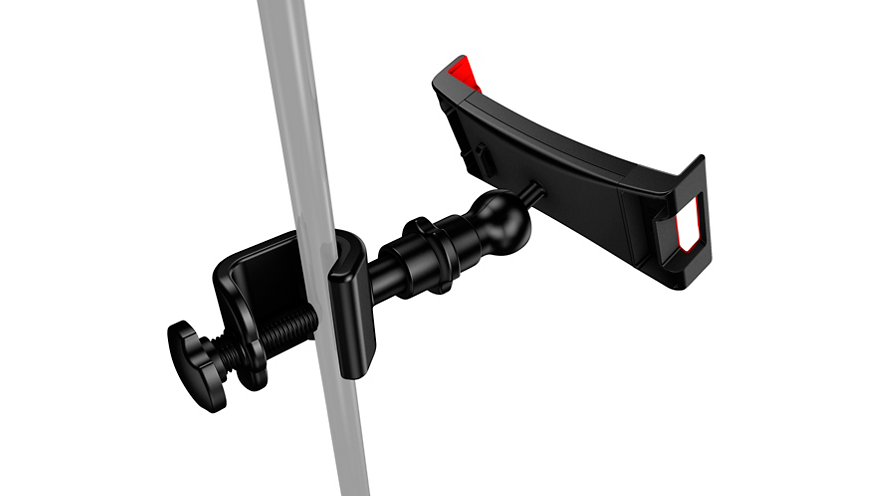 IK Multimedia iKlip 3 Deluxe for iPad Pro
SKU: IP-IKLIP-3DLX-IN
---
iKlip 3 Deluxe is completely redesigned and made from rugged thermoplastic, making it sturdier, lighter, and more portable than other tablet mounts. It features new, larger and more durable rubber grips that ensure it will stand up to years of abuse without wearing or loosening, and that won't mar your device's finish. Its new design leaves all ports accessible with or without a case.

A new and improved clip fits the widest range of tablets, with screen sizes from 7" to 12.1", with or without a case. And iKlip 3's design keeps it "future-proof" as well, so as your devices change and improve, it will still fit!

iKlip 3 Deluxe offers two mounting options for up to 5 possible mounting setups - on the front, side or boom arm or top of a microphone stand, or onto any camera tripod / monopod/ accessory with a 1/4" UNC camera thread. You'll never stop finding uses for iKlip 3 Deluxe, whether for music, presentations, photography, video recording or in the studio.

Once mounted, iKlip 3's bracket locks in with just a few simple twists. iKlip 3 fits on any part of a mic stand, making installation and positioning a breeze. Devices can be positioned both horizontally and vertically on poles up to 1.2" in diameter. Unlike top-mounting tablet mounts, iKlip 3 can position your device at the exact height you need, so you can count on setup to be quick and easy.

iKlip 3 also features a ball & socket joint for the widest range of positions in both landscape and portrait orientation. The mounting bracket also rotates 360º to quickly accommodate any viewing angle within seconds, and keeps everything together in between gigs so there's no pieces to lose. Plus a new Velcro® slot instantly secures interfaces, cables or other accessories, keeping your setup neat and organized.

FEATURES
Sturdier, lighter, and more portable than other tablet mounts
Durable rubber grips won't mar your device's finish
All ports accessible with or without a case
Fits screen sizes from 7" to 12.1", with or without a case
Can be positioned both horizontally and vertically on poles up to 1.2" in diameter
Two mounting options for up to 5 possible mounting setups
Mounts on the front, side or boom arm or top of a microphone stand
Mounts onto any camera tripod / monopod/ accessory with a 1/4" UNC camera thread
Wide range of positions in both landscape and portrait orientation