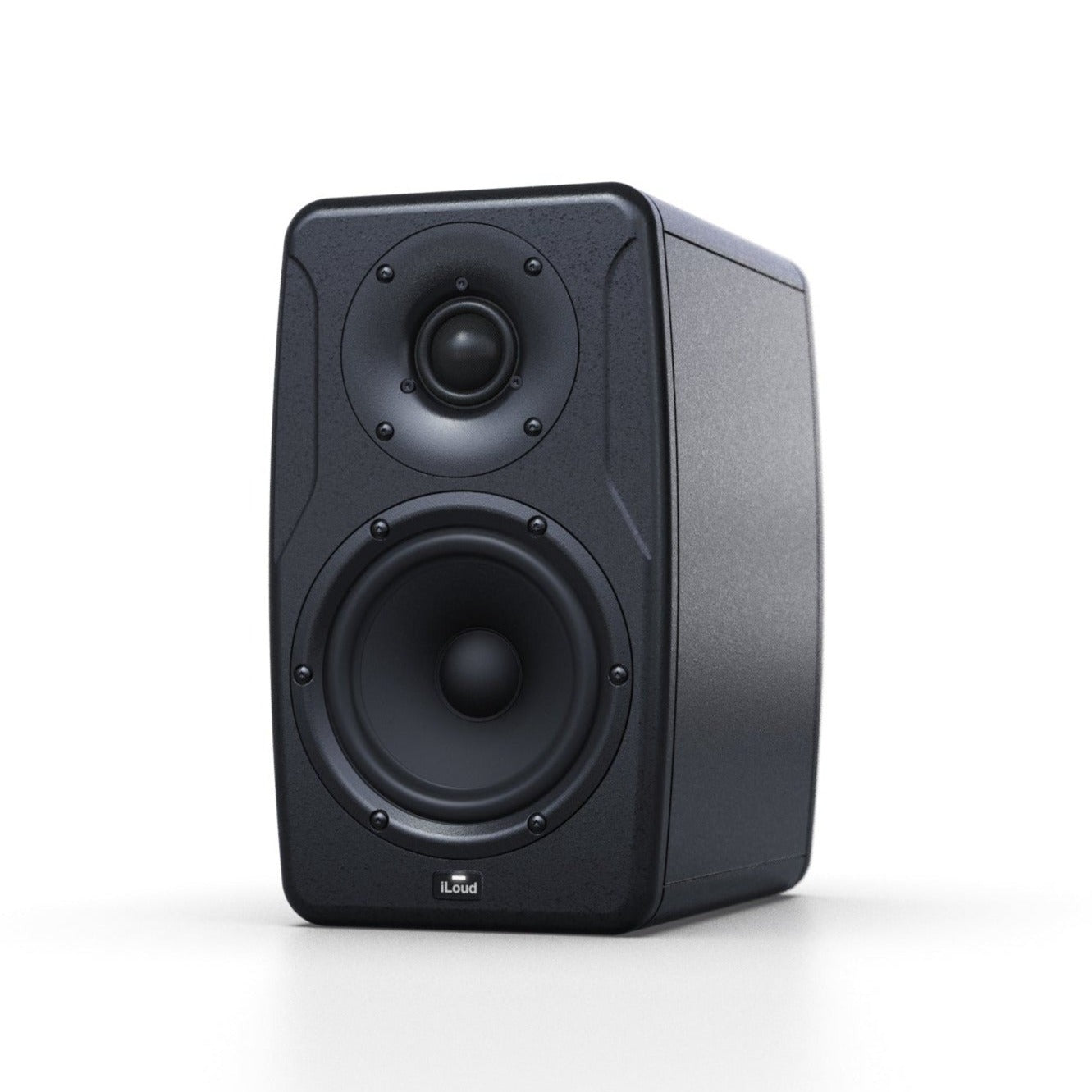 SKU: MON-PRECISION-500-IN
Ik Multimedia Iloud Precision 5 5-Inch Powered Studio Monitor
---
Studio monitors re-invented. Again.
iLoud Precision series represents another breakthrough in nearfield monitoring from the company that revolutionized compact monitors with iLoud Micro Monitor and iLoud MTM.
Available in a choice of 3 configurations — 2-way 5" or 6.5", and 2 x 5" MTM — these handmade works of sonic art reflect IK's 25+ years of expertise in loudspeaker design and digital signal processing, delivering a level of sonic detail that beats speakers at three times the price, with unique DSP-based features and software workflow enhancements that can't be found anywhere else.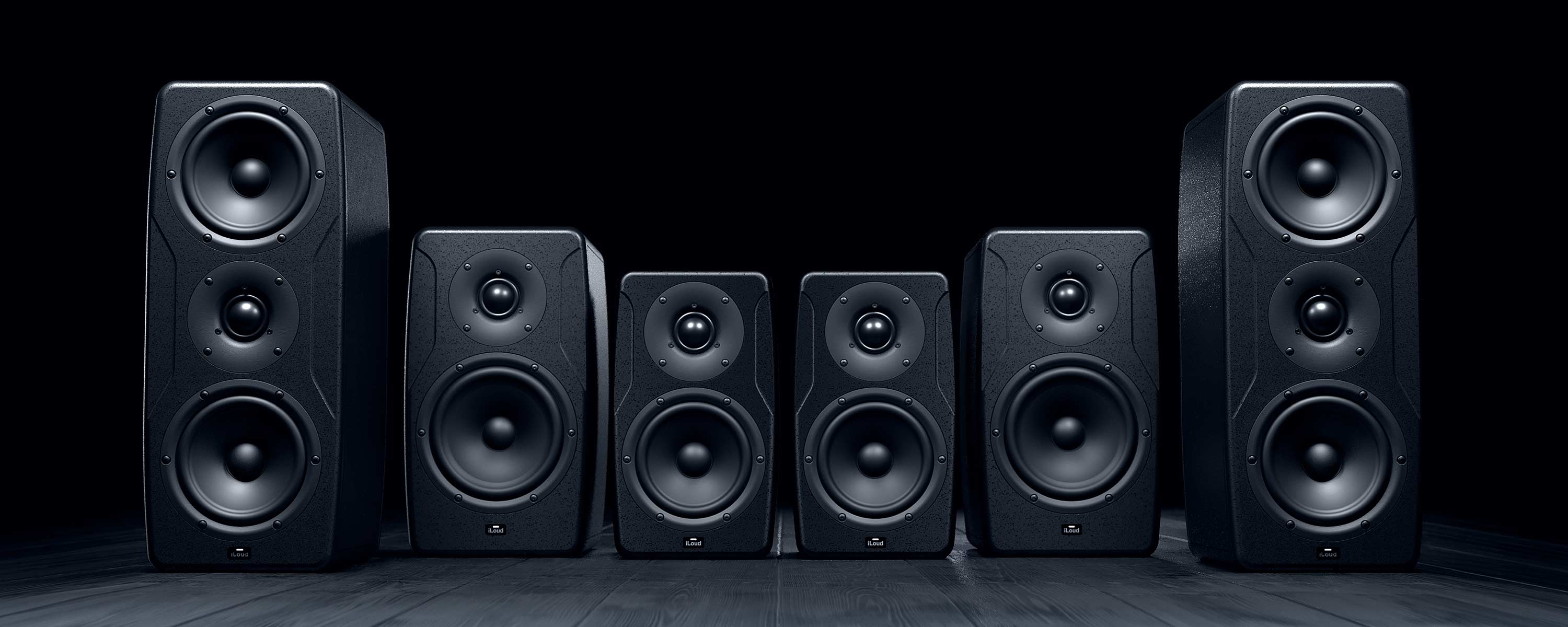 iLoud Precision overview
Truly class-defying audio performance beats monitors three times the price
Best-in-class frequency response with extended 36 Hz – 30 kHz range
Ultra-flat to ±1 dB across 45 Hz – 30 kHz spectrum
Unique linear phase response for unmatched clarity
Perfect time alignment that matches theoretical ideal speaker performance
Built in ARC™ calibration with included measurement microphone
Includes X-MONITOR software with 20+ iconic monitor emulations and extended voicing controls
Individually calibrated with ±0.5 dB unit-to-unit consistency
Developed and handcrafted in Italy


Unparalleled sonic performance
Best-in-class frequency response
Creating mixes that translate perfectly to the outside world, iLoud Precision offers best-in-class frequency response with an extended range of 36 Hz – 30 kHz and a stunning +/- 1 dB accuracy ultra-flat response from 45 Hz to 30 kHz, for precise and uncolored audio throughout the entire listening range.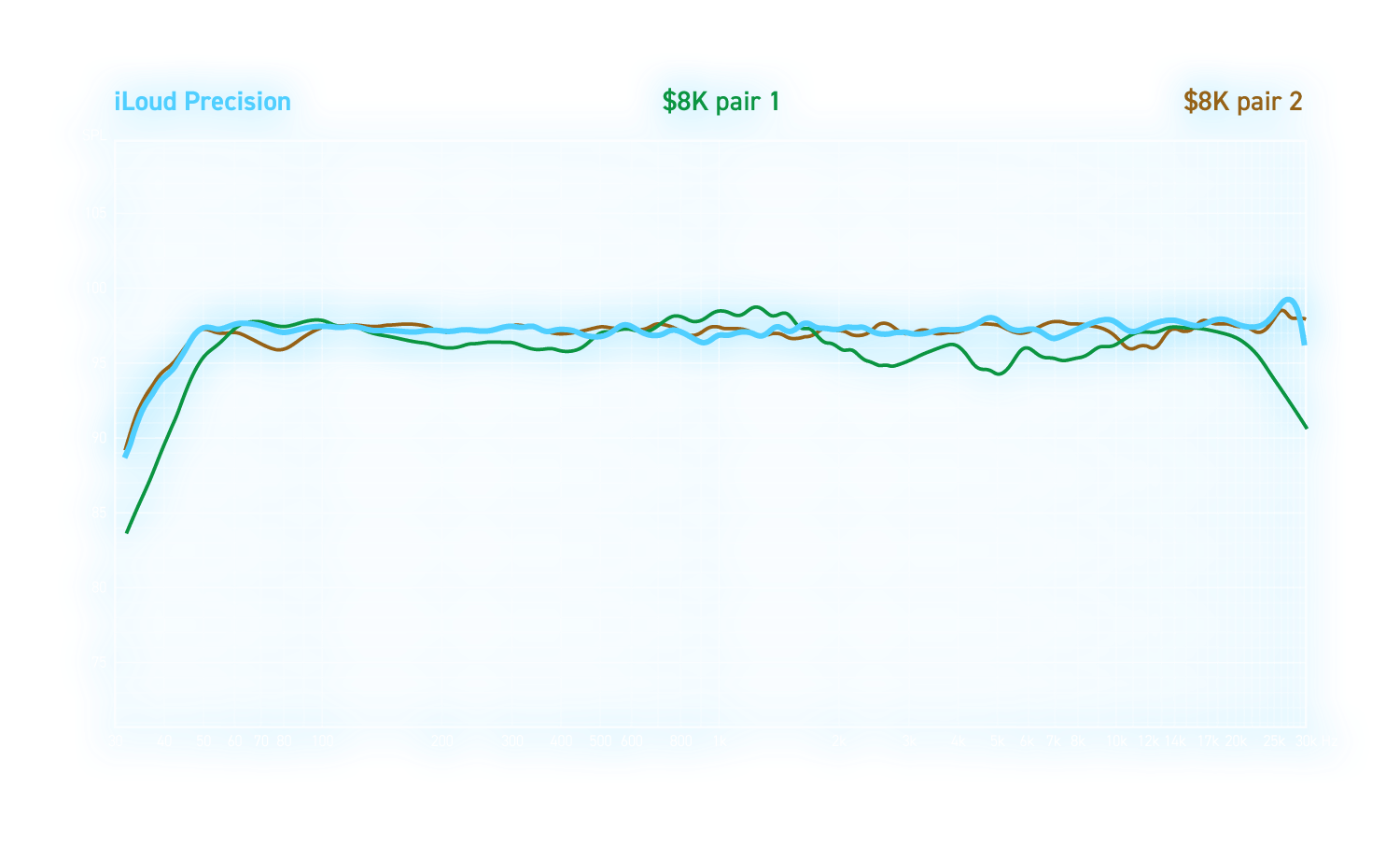 True linear phase response for unmatched clarity and translation
iLoud Precision leverages its advanced 96 kHz internal DSP system, digital crossover and custom-designed audiophile amplifiers to deliver true linear phase response above 150 Hz (and the very minimum possible phase rotation at low frequencies) for precise stereo imaging, sharp transients, incredibly solid bass and breathtaking detail. The result is a stunningly clear, transparent and revealing sound quality that's absolutely true to life.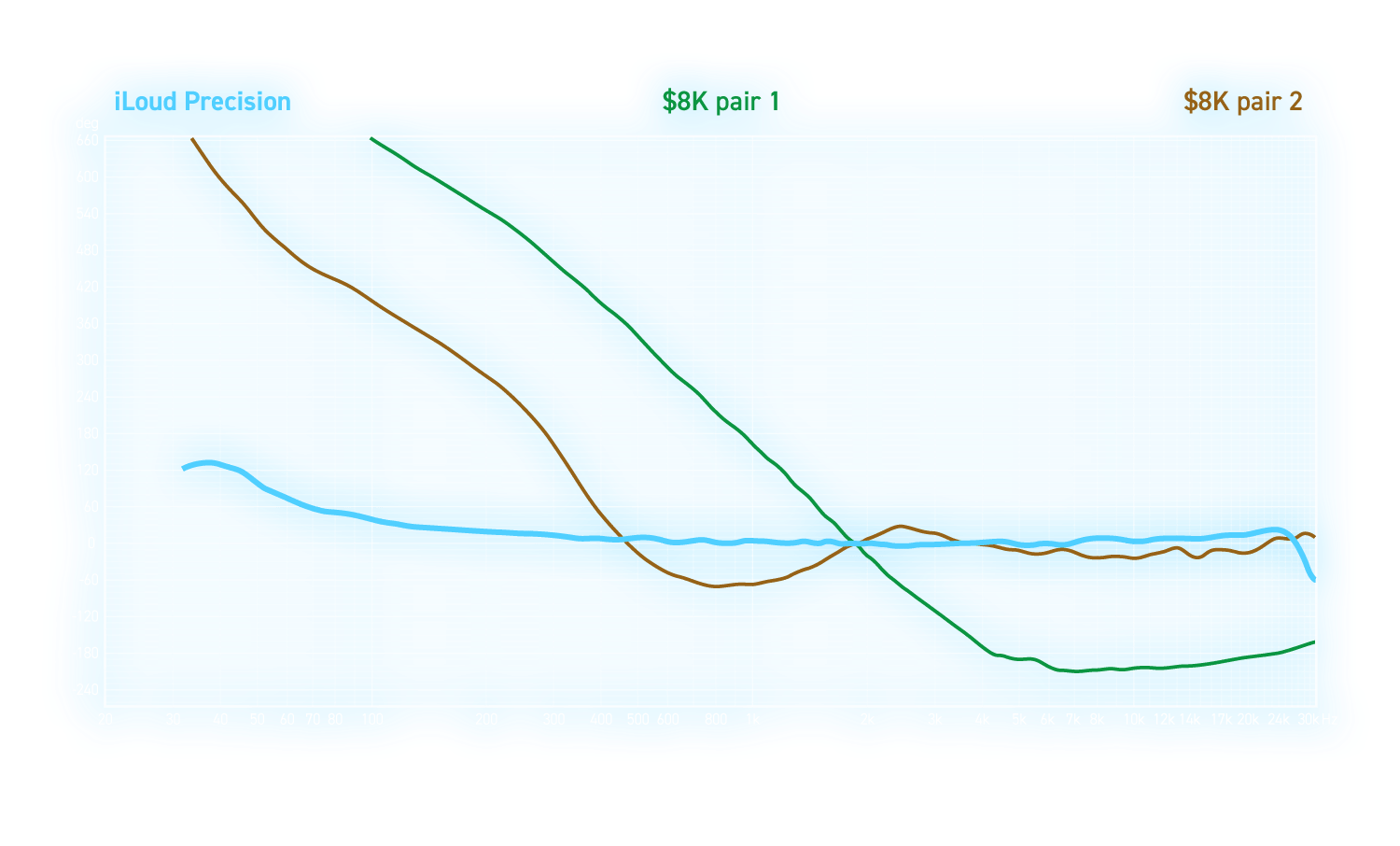 Perfect time alignment that eliminates ear fatigue
iLoud Precision also sets a new standard for time coherence, or the precise timing alignment between all the portions of the audio spectrum. Reaching nearly the theoretical ideal performance, iLoud Precision offers the highest level of time accuracy, without sacrificing frequency response. Precise time alignment offers incredibly transient response and frequency balance and eliminates the ear fatigue that can develop over longer listening sessions on lesser monitors. Plus this improves the "readability" of the program and therefore translation.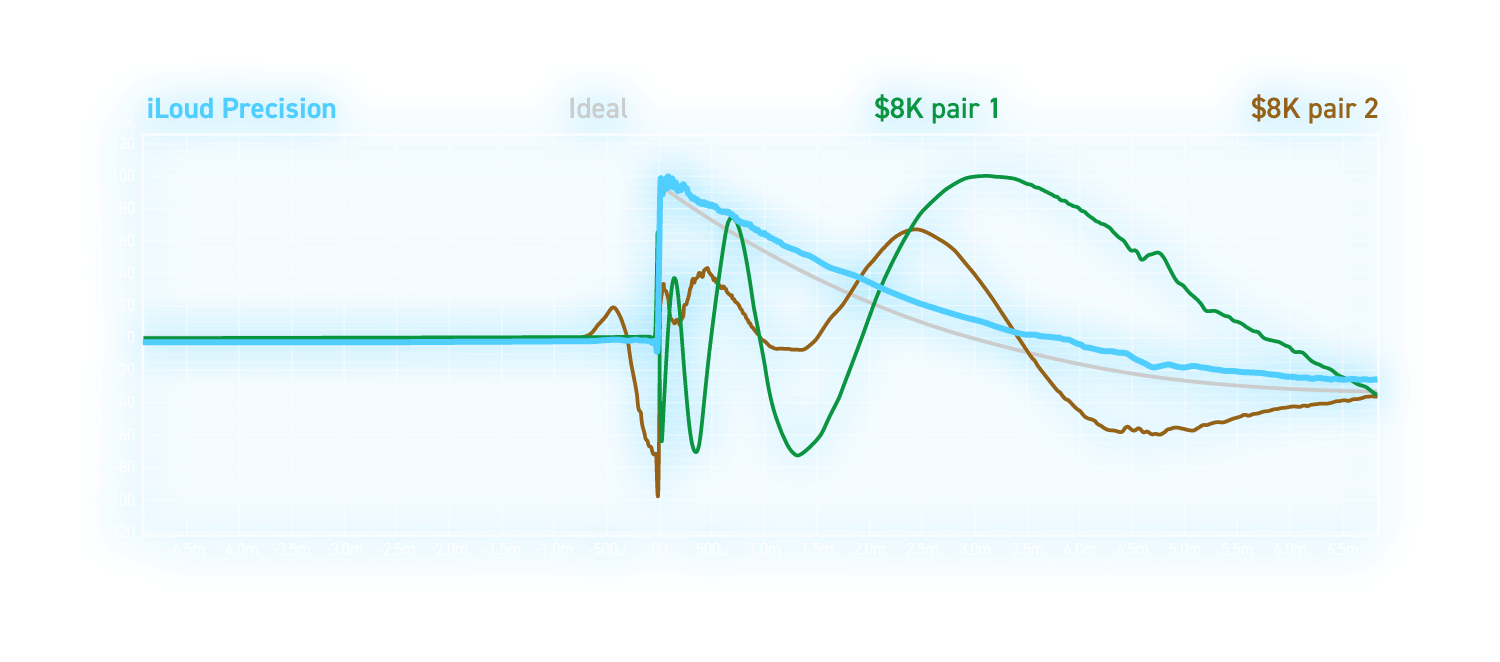 Built-in acoustic calibration to hear your music and not your room
With iLoud Precision there's less worry about treating your room. Each speaker features built-in calibration based on the acclaimed ARC™ System technology. Just connect the included MEMS measurement microphone and in a few seconds, the iLoud Precisions will tune themselves to any environment from your mixing room to living room.
Deep, controlled bass with or without a sub
With bass extension down to 36 Hz at only - 4 dB, iLoud Precision delivers deep, powerful bass that's nevertheless controlled and balanced, with minimum phase rotations. With ARC enabled, in many rooms iLoud Precision can reach as low as 30 Hz, while an adjustable bass roll-off lets Precisions integrate with a sub, for unparalleled low-end performance in any setup, without the need of an external crossover that could degrade sonic performance.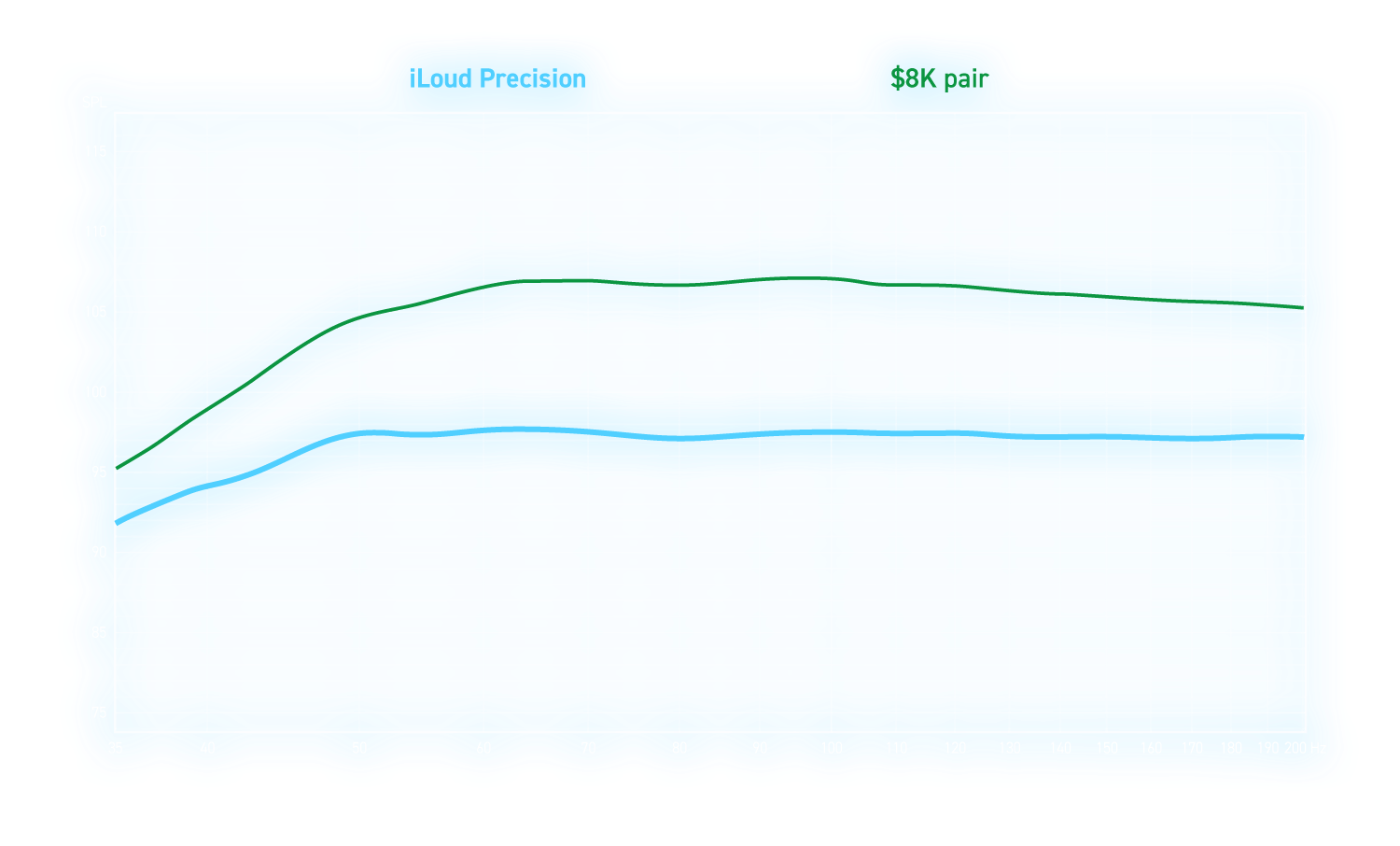 MTM configuration for point source sound
At the top of the range, the iLoud Precision MTM use the midwoofer-tweeter-midwoofer configuration to deliver not only the highest SPL, but also an ultra-precise, point source sound and an incredible stereo field. This means an even more natural, life-like sound, where the speaker cabinets "disappear" and attention can be focused entirely on the music.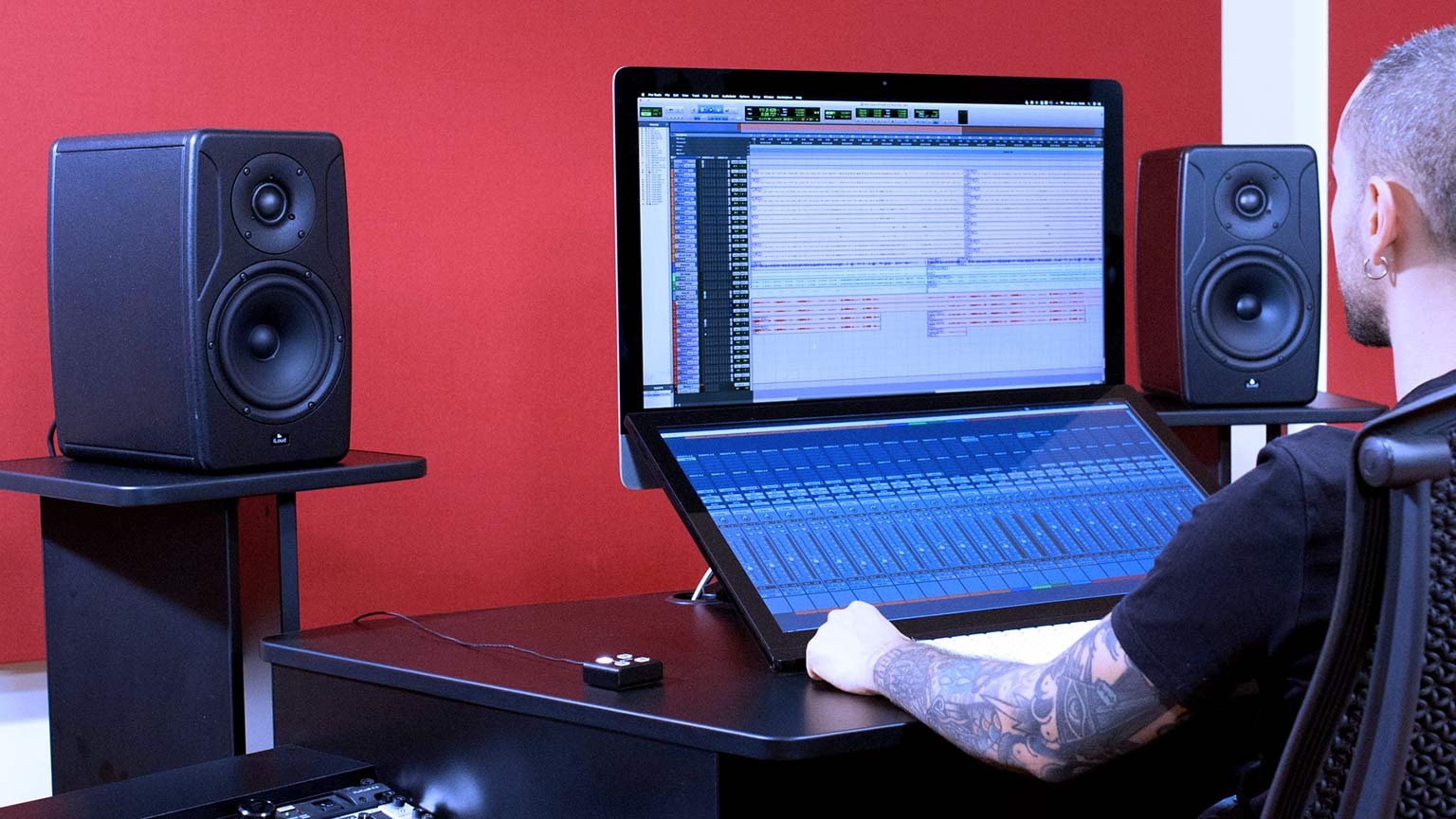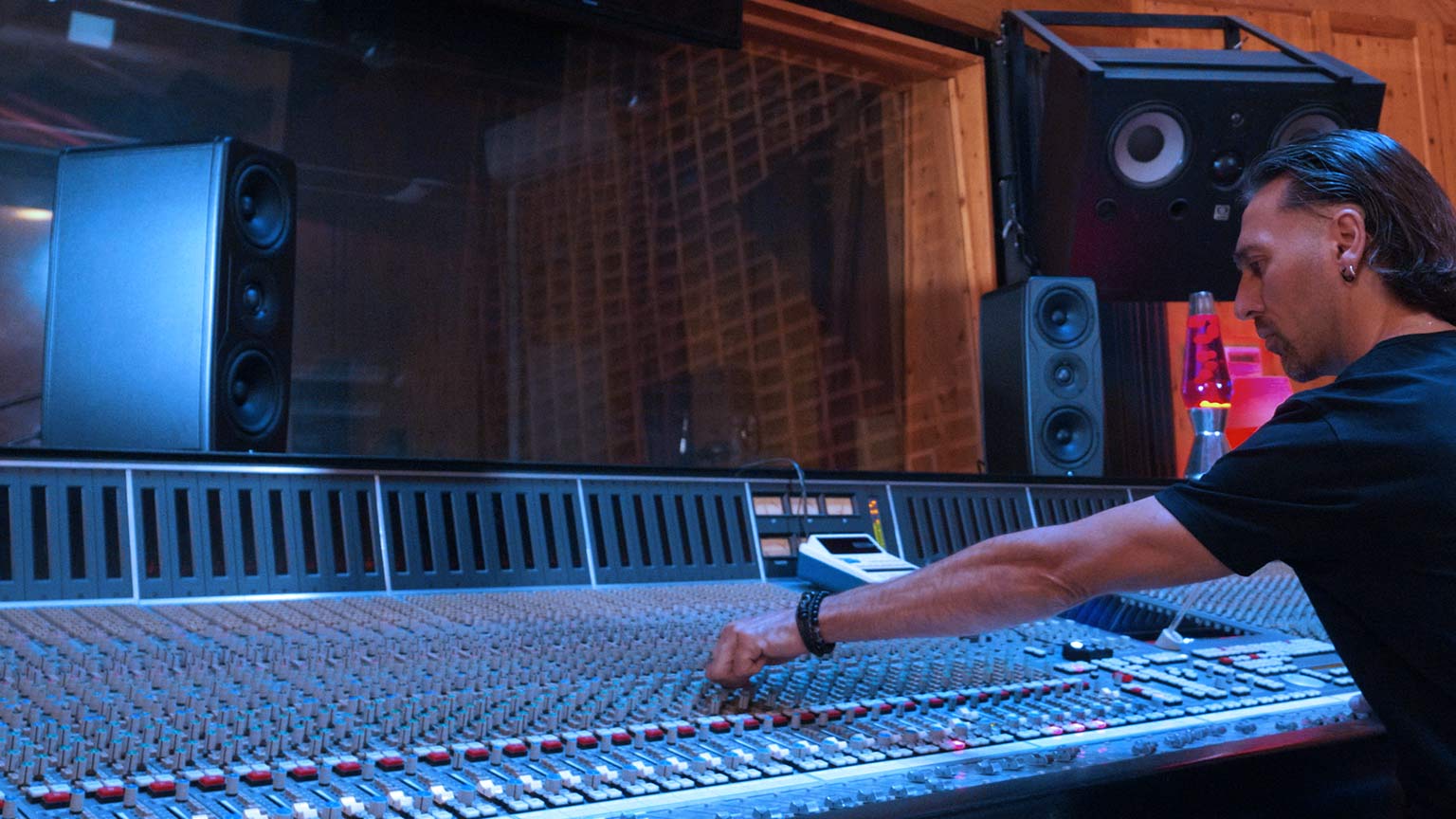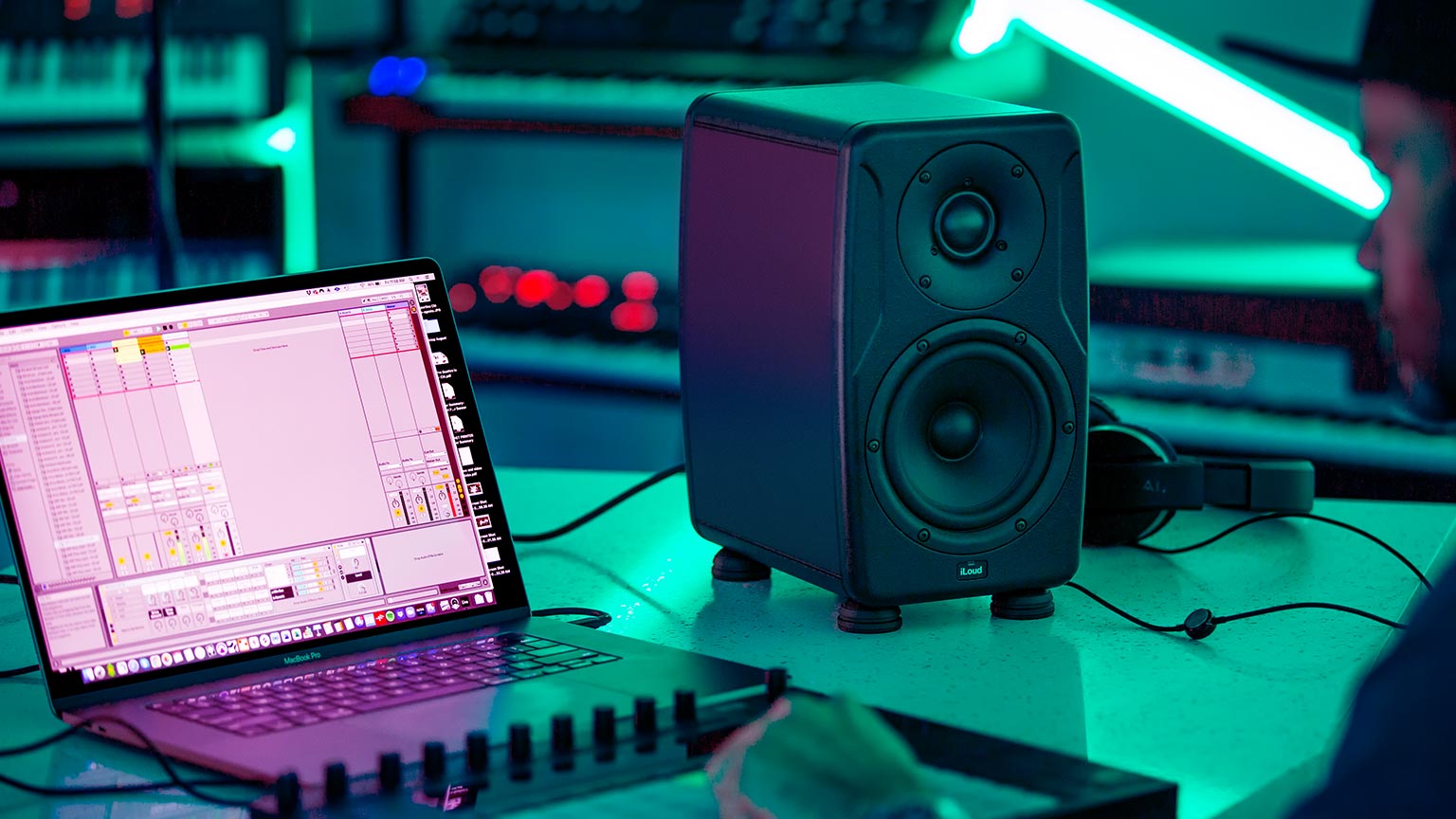 Ideal for immersive setups
In addition to self-calibrating to the listening environment, iLoud Precision includes a range of low- and high-frequency management options, including a switchable Full/35/50/65/80 Hz extension to optimize their performance with Atmos® and other immersive setups.
Designed and handmade in Italy
In addition to leveraging IK's 25+ years of expertise in loudspeaker design and digital signal processing, iLoud Precisions also benefit from a proud tradition of Italian craftsmanship.
Powerful software control
Extended calibration and custom voicing
The iLoud Precision series introduces X-MONITOR, a newly developed advanced control application for Mac and Windows that assists with ARC calibration and enables extended acoustic and voicing selection and adjustments to fine-tune iLoud Precision to your taste, plus convenient remote access to the settings on the Precision's back panel. The software is plug-n-play via a simple USB connection with no special setup needed.

Iconic studio monitors and popular speaker emulations
Even more exciting, X-MONITOR emulates the frequency and phase response of the most famous studio monitors on the market, as well as popular hi-fi speakers and mobile devices, for a breathtakingly true-to-life experience. Over 20 studio monitor profiles are included, and more will be released in the future, saving you money and space. A single pair of iLoud Precisions with X-MONITOR lets you test a mix on different reference systems quickly, without ever leaving the sweet spot or needing any other speakers.
Fully accessorized
Measurement microphone included
Each iLoud Precision includes a high precision MEMS measurement microphone for the built-in ARC calibration that makes setting up the monitors a breeze.
Isolation pods included
Designed to meet the specific needs of audio professionals and musicians, each iLoud Precision includes a kit of 4 iLoud Isolation Pods. Enjoy enhanced audio clarity, consistency and imaging precision throughout the whole frequency spectrum as these custom pods dramatically reduce the propagation of vibrations between the speaker and supporting surface.
Which Precision for you?
On-axis, the three Precision models have essentially the same frequency response. So which model is right for you? It all comes down to your sonic preference.
iLoud Precision MTM's design features a naturally limited vertical dispersion, so it will "interact" less with your room's acoustics. In practice, that gives it a more forward, detailed sound, almost like a magnifying glass. Whereas the Precision 5 and 6 may sound a little more natural because they interact with the room more uniformly in the audio spectrum.
So if you're looking for a speaker with extreme accuracy and an ultra-precise representation of reverbs, spaces and so on, the Precision MTM is the ideal tool. If you're used to more "comfortable" speakers that lean towards an audiophile-like experience, the Precision 5 or 6 may be for you. They both still have tons more detail, articulation and clarity than most monitors on the market.
Optional remote control
The optional iLoud Precision Remote Control lets you switch easily between 4 X-MONITOR speaker emulations or custom voicings and assign functions like ARC On/Off, Mute or Dim. And for use with ARC room correction software, the remote can control the measurement/room calibration process from the desk while providing visual feedback on the process status.
iLoud Precision, an array of unique features
Advanced electro-acoustic design
Audiophile, custom-designed Class-D power amplifiers
High-end A/D and D/A conversion
Ultralight coated paper membrane mid-woofers
Low distortion, low resonance chambered 1.5" mm textile dome tweeter
Low resonance, high damping MDF enclosure
Precision damped front baffle to minimize diffractions and resonances
Coherent and controlled dispersion for optimal room-interfacing
State-of-the-art DSP/software
Total digital system control with 96 kHz internal processing
Built-in room calibration with included microphone
X-MONITOR technology emulates various reference systems, including frequency and phase responses
Wired remote (optional) to switch among X-MONITOR profiles
LF extension, LF, HF levels, and Desktop acoustic space controls
Stunning audio performance
Flat +/- 1 dB frequency response
Linear phase response from 150 Hz up and minimal phase rotation below 150 Hz
Time coherent across the audio spectrum
Best-in-class maximum SPL