Roll over image to zoom in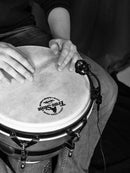 Description
Pack of three microphones intended for the sound reinforcement of congas, bongos, djembes, cajons, timpani, rototoms, tambourines, tablas, batas, darboukas, bendirs, bodrhans, toms, snares, drums, surdos, talking drums, udus, steel drums.
PL21 Salmiéri Percussions
A whole new range of instrument microphones for recording all your percussions on stage.
We have developed

 

an electret cell capable of handling up to 140dB

 

, which will therefore capture all the dynamics and nuances of your playing.

In addition, its great linearity will perfectly respect the timbre and tone of your instrument.
Payment & Security
Your payment information is processed securely. We do not store credit card details nor have access to your credit card information.