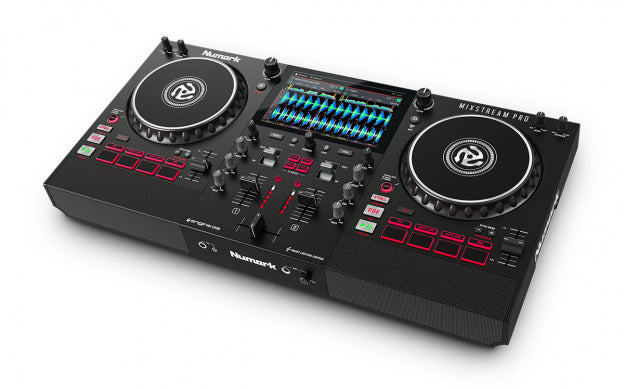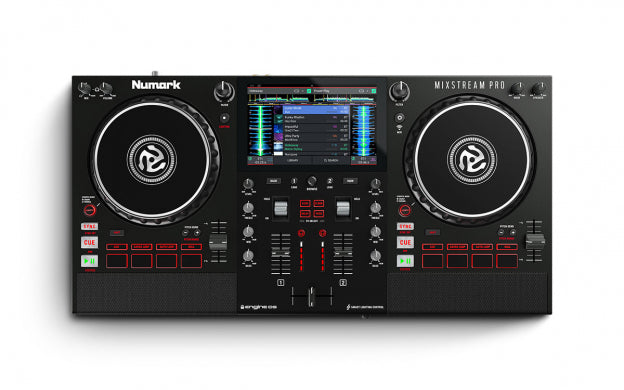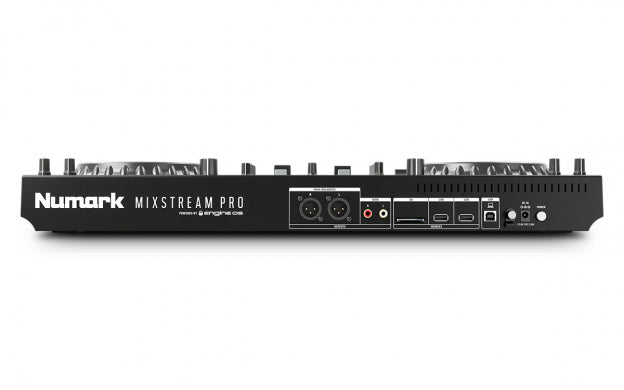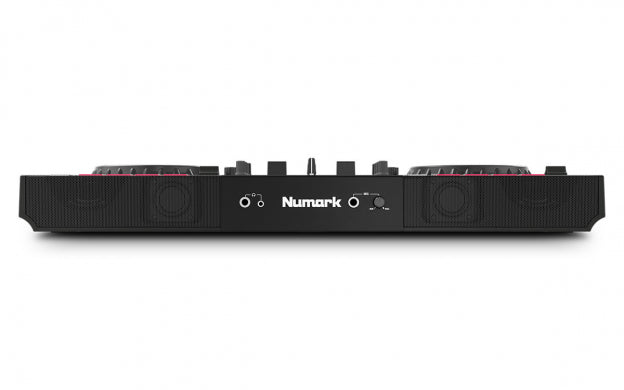 Numark Mixstream Pro DJ Controller
SKU: MIXSTREAMPROXUS
---
Connect. Stream. Play.
The Mixstream Pro standalone DJ controller is fully optimized and suited for the present and future of DJing, setting new standards in connectivity and music access. With its built-in WiFi, the Mixstream Pro can access streaming content virtually anywhere. Connecting quickly to TIDAL, Beatport LINK, Beatsource LINK, Soundcloud Go+, and more to come, the Mixstream Pro grants DJs access to millions of songs, curated playlists, and top charts. Tracks are analyzed for bpm and key as they are loaded and buffered into the internal memory, ensuring uninterrupted playback at every party, gig, or live stream.
First-Ever Built-In Monitor Speakers
The Mixstream Pro is the first-ever standalone DJ controller to feature high-quality, built-in speaker monitors with a dedicated volume control knob. These custom-tuned drivers produce rich, full sound and make the Mixstream Pro the most versatile, plug and play standalone DJ controller on the market. The high-quality sound output is perfect for casual listening, cookouts, pool parties, and gatherings of family and friends. For the aspiring or professional DJ, the built-in speakers are the ultimate, convenient solution for practicing, live streaming, video content creation, and personal monitoring when connected to a larger sound system.
Make Your Smart Home Lighting Dance to the Music
Not only does the Mixstream Pro connect instantly to streaming music, but it also connects wirelessly to Philips Hue smart home lighting! Using the built-in Engine Lighting embedded control, connecting to a Philips Hue lighting hub only takes a few taps. Once connected, the smart lighting will instantly and automatically change color and brightness perfectly on-time with whatever song is playing! The on-screen lighting controls provide special lighting override effects including strobing, custom color selection, and more to impress houseguests and take the party atmosphere to the next level. The lights even respond to the movements of the crossfader, volume controls, and scratching for an amazing, immersive audio/visual experience!
Advanced Lighting Integration and Control
For advanced lighting options and features, DJs can pre-analyze their music library with the SoundSwitch desktop software, export their library to a USB drive, SD card, or to their Dropbox cloud, and have full control of DMX lighting using the touchscreen of the Mixstream Pro. This never-before-seen versatility and functionality makes it simple to provide an immersive lighting experience at events and gigs without the need to bring along a laptop or DMX controller.
Add Your Existing Music Library to the Mix
On top of its array of connected features, the Mixstream Pro features 2 USB inputs and 1 SD card slot for external media drives, giving DJs optimum versatility when it comes to music selection and curation. Using the Engine DJ desktop software, DJs can quickly and easily export iTunes, Serato DJ, rekordbox, or Traktor libraries and playlists to a USB drive or SD card, and then access their music instantly on the Mixstream Pro.
Ultimate Control for Creative Music Interaction
The intuitive layout and 7" high-definition touchscreen allow DJs to browse, load and play with their music like never before. To provide the ultimate mix, a full-blown EQ and FX section unleashes the power of the DJ in anyone. The 4 built-in effects (Echo, Flanger, Delay, and Phaser) are perfectly timed to the beat when they are triggered with the fun, interactive toggle switches. There's no feeling quite like mixing in the perfect song at the perfect time, and the large Filter knobs add even more excitement by providing hands-on control over the low and high frequencies to create dramatic mixes, blends, and transitions.
FEATURES:
Built-in WiFi for access to streaming services: TIDAL, Beatport LINK, Beatsource LINK, SoundCloud Go+, and Dropbox
Engine DJ embedded operating system for laptop-free performances
Built-in speakers with volume control for home use, practicing, and monitor applications
Engine Lighting embedded lighting control for Philips Hue smart home and DMX lighting
7" multi-gesture high-definition touchscreen
6" capacitive-touch scratch wheels with Smart Scratch feature for on-beat scratching
4 dual-layer performance pads on each deck
4 performance mode pads on each deck (Cue, Saved Loop, Auto Loop, Roll)
FX section with 4 effects and 2 toggle switches
Large Filter knob on each deck
Pitch Bend buttons and dedicated Pitch Slider
Selectable Pitch ranges of 4%, 8%, 10%, 20%, 50%, and 100%
Dedicated Sync, Cue/Stop, and Play/Pause buttons
3-band EQ on each deck
2 USB inputs
1 SD Card input
Balanced XLR Main outputs
RCA Main outputs
¼" microphone input
¼" and 1/8" headphone output jacks
Audio

Main Outputs

Frequency Response: 20 Hz – 20 kHz +/- 1 dB

Dynamic Range: > 114 dB (A-weighted)

Signal-to-Noise Ratio: > 94 dB (A-weighted)

Headroom

Mic: > 16 dB

Outputs: > 16 dB

Channel Separation: < -110 dB (1 kHz, unity)

T.H.D.

Line: < 0.01% (1 kHz, unity)

Microphone: < 0.05% (1 kHz, unity)

Speakers

Frequency Response: 20 Hz – 20 kHz +/- 1 dB

 Analog Input

Microphone: -40 dBu (unity) / -60 dBu (minimum)

 Analog Output

Master, Balanced: +20 dBu (maximum) / +4 dBu (unity)

 Master, Unbalanced: +16 dBu (maximum) / 0 dBu (unity)

Headphone Output: < 30 mW

 Connections

Audio Outputs

2 XLR outputs (main left/right,balanced)

1 RCA output pair (main left/right, unbalanced)

1 1/4" (6.35 mm) stereo output (headphones)

1 1/8" (3.5 mm) stereo output (headphones)

Audio Inputs

1 1/4" (6.35 mm) microphone input

Other

2 USB port (for USB drives)

1 USB port (to computer)

1 SD card slot

1 power adapter input

Engine DJ (OS) Playable Media 

Media Types

SD, SDHC, SDXC

USB mass-storage devices (flash memory, external HDD enclosures)

File Systems

exFAT (recommended)

FAT32

File Formats

AAC/M4A

AIF/AIFF (44.1–192 kHz, 16–32-bit)

ALAC

FLAC

MP3 (32–320 kbps)

MP4

Ogg Vorbis

WAV (44.1–192 kHz, 16–32-bit)

Power

Connection: DC, Center Positive

Voltage: 12.0 V 3.0 A