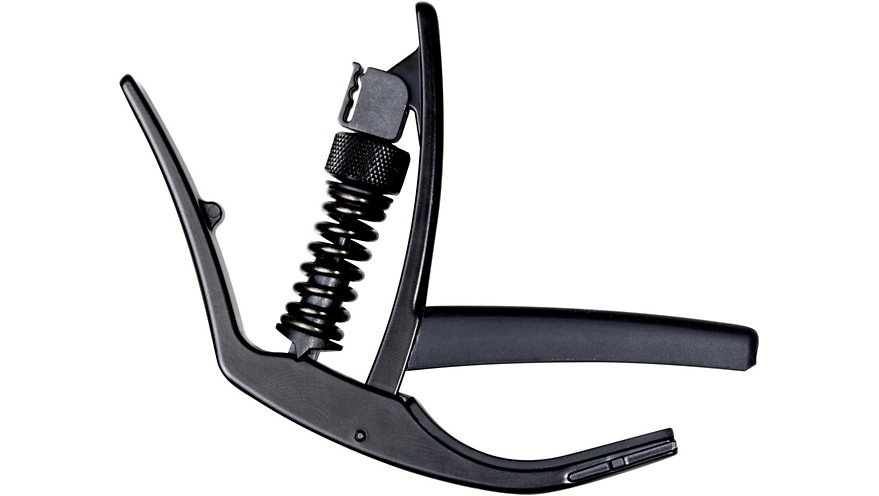 D'Addario Planet Waves Artist Capo Black
SKU: PW-CP-10
---
OVERVIEW
The NS Artist Capo utilizes a patented trigger geometry reducing the force required to open and close the capo while applying even tension regardless of neck profile. Combined with the micrometer tension adjustment and direct horizontal pressure, the NS Artist Capo virtually eliminates pulling the strings side to side and the need to retune during use. Additionally, the trigger design and lightweight aluminum construction adds no obstruction or noticeable weight to the neck of the instrument. The NS Artist Capo includes an NS Mini/Micro Tuner mounting bracket, allowing you to add tuning capabilities to the capo.

Tuner sold separately.

Planet Waves products promise to be the most innovative professional musician's tools available. Their diverse capo line is no exception. Many of their groundbreaking models are the result of a productive joint effort between famed designer Ned Steinberger and Jim D'Addario. No matter what syle of capo you prefer, Planet Waves has a capo for you.

FEATURES
Designed for use on 6-string electric and acoustic guitars
Micrometer tension adjustment assures buzz-free in-tune performance at every fret
Trigger geometry offers easy use and even clamping tension
Lightweight aircraft-grade aluminum construction